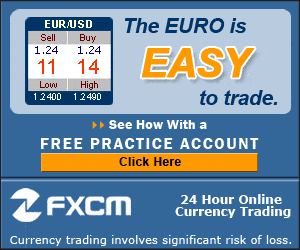 If you are thinking to start a foreign exchange trading or Forex, your first job will be selecting a broker house. You might face difficulties while searching broker house because there are abundant brokers available in the market. However, it will be wise decision to select a broker house with large and reputable names such as FXCM. FXCM has already gained his customer satisfaction and one of the largest and very well known Forex broker in today's world.
Forex Capital Market, popularly known as FXCM has become largest reputed online forex trader in the world. The headquater of this company is in New York. Currently it has more than 175000 retail and customers globally. It was started his journey in the year of 1999. Now it has more than 550 employers of its own. Then it worked with Refco group as a joint venture. Refco took 35% stake in FXCM and got an opportunity the FXCM software to use for his clients. However, Refco was fall down in 2005 that create a bad impression on FXCM. Following this FXCM accused for bankruptcy, this carried on for a number of years. FXCM opened office in London in the year of 2002 and gradually expanded Sydney, Hong Kong, Paris and Dubai it has also several offices in USA. In that mean time, it was a regulatory member of Financial Services Authority.
The key factor of success with FXCM is their trading software, FX Trading station. FX trading station is vastly considered as no 1 trading software in the industry including cutting edge technology and suitable for trading directly from the chart. This software is suitable for freshers because they can easily see their trading report as well as they have option to customize it and many other prime features. Successful Forex trade is the main objective of FXCM. More ever No dealing service provides direct currency trade facility from different major banks that offer best price at any particular time.
If you are willing to start, your trading with FXCM the initial deposit to creating account is $100. For micro account and standard account it will charged respectively $25 and $1200. You are just one-step ahead to creating an account in FXCM. Just you have to fill out a form that takes not more than 10 minutes following this they are going to verify your information. Once it is verified, you will receive a email conforming further signup process.
FXCM offer you a 30 days trial option to use. By applying this opportunity, you will learn about the company, their policies and about FX trading station software. FXCM offers you approximately 100:1 leverage depending on trading accounts. There is an option for you to keep your leverage at default position that are based in default margin setting. Furthermore, FXCM gives you an opportunity to risk free management during their Forex trading by placing trailing stops.
In the trading market, FXCM is roaming near about more about 10 years by fulfilling their balance trading as well as customer satisfaction. At the end you will never regret by choosing FXCM as your Forex broker because for its reliability and satisfactory service.