you are new at forex market and you want to start from the biggest and most secure broker world company – you will go to forex.com website.
If you are looking for a great brokerage in the sea of many, why not take a look at Gain Capital/Forex.com? Following is a Gain Capital/Forex.Com Broker review.In thisForex.com Reviewwe can see that this company was started in 1999 and has a strong presence globally with traders in 140 countries. The software of choice is the ever popular MetaTrader 4. This platform offers many different services to its traders through the use of the platform such as Limit order, Stop order, Trailing stop order and others. The possibility is also there for trading in commodities or mutual funds.
Other services include cell phone based applications as well as web applications. The flexibility in the pip spread is a good 1-2 based on the major pairs. Also provided is Forex based EA's that are completely automated and is also coupled with Tradestation. This allows more users to use the services. However when only using the Gain Capital side this service only allows usage of the Forex Trader Pro software. This is in contrast to using Forex.com with both platforms being present. So they are not the same when it comes to Forex trading live in the market.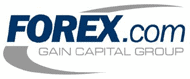 Minimum deposits required for standard account is $2,500 USD. On the Forex.com side minimum for standard account is $100,000 USD. Minimum margin deposit for this account is $2,500 with 100:1 leverage on the account. For a mini account the deposits are $250.00 for Forex.com. For a mini account transaction size has to be $10,000 with minimum deposit of the $250.00 with the same leverage as a standard account. The one thing that can cause problems for Gain Capital is the fact that slippages and hanging servers. These have caused a lot of complaints for them, especially in light of the minimum deposit being so high.
Complaints have also arisen due to the stops not working and the spreads not working in the pip area they are supposed to. It makes for a not too good platform to work with as far as Gain Capital is concerned. The speed is not what it should be due to having so many people using it the world over. With that being said, there are traders that have given very positive reviews to Gain Capital. Some of the Gain Capital/Forex.com broker reviews are glowing, others are not so glowing. You will have to decide for yourself which one is right in this particular case.
If you want to give them a shot, then the suggestion is to use their free demo account and then decide based on what you experience. This is the only fair way to rate this brokerage firm. With so many different reviews available, it will be up to the trader in question to decide whether or not they want to have Gain Capital as their trading broker for Forex. Read through the reviews and try the demo account. Then decide based upon that. A review of a different sort may be forthcoming if your experience is positive with Gain Capital/Forex.com.