When speaking about reviews for brokerage firms, the name Gain Capital comes up again and again. We give you here a Gain Capital review but detail review you can read at Forex.com Review.. There are many different things to like such as education material for beginners and intermediate traders as well as plenty of research and trading tools. On the other hand, there are some dislikes such as higher costs for experienced traders for this particular brokerage. With that being said, Forex.com/Gain Capital is one of the largest brokerages in the world offering many different options and tools for the trader to use.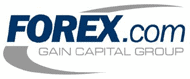 They may not be inexpensive, but they are not the highest cost brokerage either. This is a good place to start if you are new to the Forex market. Gain Capital Holdings provides global Forex market and services. With a wide variety of platforms to choose from such as MetaTrader 4 a client now has more ways to connect to the market. Their web site, Forex.com offers educational videos, training, news and research for every experience level. Here are some numbers as far as trade commission's go. The smallest amount of account would be the mini account and the maximum leverage for US is 50:1.

For international foreign exchange pairs the leverage goes to 200:1. Spread values go from 1-2 pips between bid and ask pricing. At this time, there are no premier accounts such as a micro account. Institutionalized Forex trading is available however. An account with this brokerage features a no minimum deposit, investment education, no maintenance fees and online trader community. The trade commission on Forex trades with this broker is $12.60. So there are a lot of features available. Some of the spreads available can be GBP/USD 3.2, USD/CHF3.0, USD/JPY 2.3 and AUD/USD 2.8.
Another reason to use this brokerage firm is for the free 30 day practice account loaded with $50,000 to practice with. For someone that is new entering into the Forex market, this can be an education well worth getting. Research and training material are all available to a new Forex trader. They have a high reputation for customer service and have multilingual operators on duty 24/7. Forex.com/Gain Capital also has high marks for service as well as solid business practices. They are well recommended by many of their clients and have word of mouth repeat business in the Forex market.
Considering all the pluses of dealing with this particular brokerage, it should be said that if someone is interested in getting their feet wet this is the brokerage to do it. Many options make trading with this broker very pleasant. While there are plenty of names in the sea of Forex brokers, Gain Capital/Forex.com leads the way with a great reputation. Find out for yourself what this particular brokerage can do for you. Signing up is easy and takes about 5-10 minutes of your time. Couple that with multiple trading platforms for different devices. This gives Forex.com the edge when it comes to Forex brokerages.